| | | | | | |
| --- | --- | --- | --- | --- | --- |
| MZ DEVON | GODDESS CANDIKA | BRITNEY BOND | MISTRESS ANTOINETTE | GODDESS KELLY | FEATURE YOURSELF |
I am The Trigger MP3
I am the trigger. I am the cause. I am the catalyst of your financial submission. When you see Me you are automatically compelled to worship and pay… and pay… and pay some more. There is no escaping Me because I am deep in your mind now and when you see Me your submission is TRIGGERED.
The MP3 is over 6 minutes long and contains NLP mind control techniques.
*Listen to this MP3 with headphones on to experience the mind altering effects!*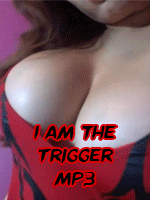 Call Princess Shimmy on Niteflirt – New accounts receive 3 minutes free!
| | | | |
| --- | --- | --- | --- |
| | | | |


© 2013 PayToViewflirts.com All Rights Reserved. : Niteflirt : Pay To View : PTVs : Flirts : Phone Sex : Fetish Phone Domination :